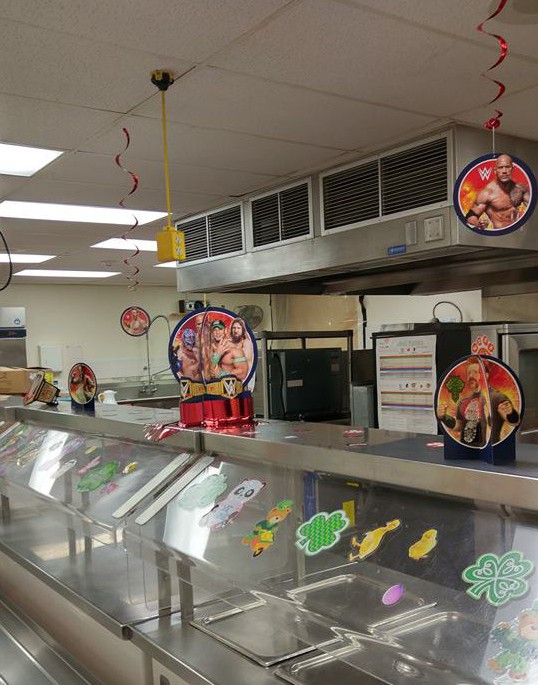 Students at West Zephyrhills Elementary School walked into their cafeteria Tuesday morning to quite a surprise! World Wrestling Entertainment (WWE) decorations hung from the ceilings and were placed throughout the serving lines to encourage students to "Wrestle Up to School Breakfast" in celebration of National School Breakfast Week. This year, National School Breakfast Week will take place between March 6 – March 11 and the theme is "Wake Up to School Breakfast". The "Wrestle Up to School Breakfast" theme was planned by FNS Manager Intern, Christine Banks.
To make things even more exciting, members of the Zephyrhills High School wrestling team stopped by with their coach Randy Light to pump the students up about breakfast. They also helped draw the name of the daily prize winner. Any child who purchased a breakfast meal that morning got a raffle ticket and was eligible to win a prize! To top it all off, West Zephyrhills set a new school record that day with their highest ever breakfast attendance of 567!
Congratulations to West Zephyrhills on setting their new record and to Christine for organizing such a successful event! Keep up the awesome work and happy National School Breakfast Week!
Guest Blogger: Janine Gordon, Intern, Johnson & Wales University