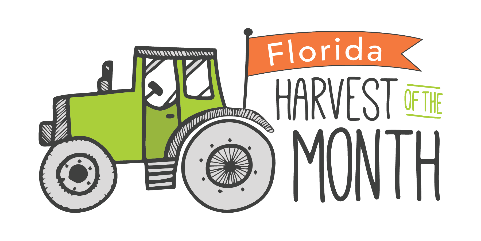 The Florida Department of Agriculture and Consumer Services' Division of Food, Nutrition and Wellness has created a curriculum program to cultivate a Farm to School connection by increasing students' exposure to seasonal foods. The program provides monthly lessons and activities for students in grades kindergarten through eighth grade featuring a locally grown "Fresh From Florida" product.
To register your class for the 2017-2018 school year go to www.FreshFromFlorida.com/HarvestoftheMonth and complete the online form by Monday August 14, 2017.
Registered K-5 classrooms will receive:
Monthly email with updates and links to our collection of materials including:

Harvest of the Month PowerPoint
Garden Activity
Word Search

Printed lesson plans that highlight a different seasonal Florida fruit or vegetable
Class set of worksheets that accompany each lesson
Class set of seasonal bookmarks and stickers
Seasonal product poster (one per classroom)
The Harvest of the Month materials from past seasons can be previewed and are available for download here. Currently, the grade 6-8 packet is solely available online. All middle school teachers will receive the monthly Harvest of the Month newsletter and special access to the materials. Individual teachers from the same school are encouraged to register for the program in order to receive classroom sets of the materials. Share this email with your colleagues!
Participation in the Florida Harvest of the Month Program is subject to availability and may change without notice. Registration for the Florida Harvest of the Month Program is open to educators at schools participating in the National School Lunch Program. 
If you have any special requests or questions, please contact Kristi.Hatakka@FreshFromFlorida.com.