The Healthier US School Challenge (HUSSC) is an award recognizing schools who demonstrate a commitment to creating a healthy school environment through the promotion of nutrition education and physical activity. There are four award levels: Bronze, Silver, Gold and Gold Award of Distinction. In 2014, HUSSC criteria began to incorporate the Smarter Lunchroom Movement. This movement advocates for the implementation of evidence-based methods that involve little to no cost but can increase participation in school meals programs and also reduce plate waste.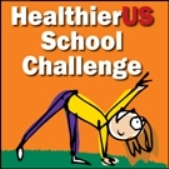 Five of Pasco County's schools have been awarded with the Bronze level of the HUSSC and they include Dr. Mary Giella Elementary School, Gulfside Elementary School, Fox Hollow Elementary School, Northwest Elementary School and Veterans Elementary School. So maybe you're interested in your school earning a HUSSC award? Well you can register for a live webinar on either February 27th from 12-1 pm or on March 13th from 2-3 pm.
To learn more about HUSSC and all criteria involved in receiving the plaque award and monetary incentive, visit their website.
Guest Blogger: Raneitra Grover, MPH, Team Nutrition Coordinator, Florida Department of Agriculture and Consumer Services